1966 Manuel Velazquez Spruce/Solid Top
Top: Spruce
Back and sides: Rosewood
Tuners: Landsdorfer
Scale: 650mm
Origin: USA
Price: SOLD
This stunning Velazquez has found a new home, if you are seeking a fine Velazquez please contact me!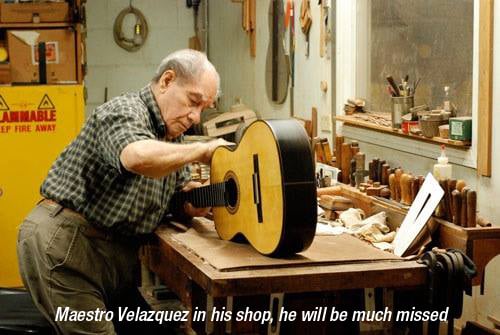 Always dreamed of playing a Hauser but just could not fit it in your budget, this may be the guitar for you. An exception Velazquez by any measure, with a particularly fine voice that is melodic and yet robust, a powerful guitar and very Hauser-like in its essence, articulates superbly, plays easily and I just dare any guitar love to pick her up, and then try to put her down. That kind of Velazquez, the kind responsible for his long standing reputation as one of the more notable builders of our time. I can not overstate enough how nice this guitar sounds and my expectation is that the first person who plays it will buy it. It is that good.
The guitar is owned by a professional player, and has been very well cared for and lovingly played. It was re-fretted and re-polished by Manuel Velazquez several years before his passing, and has a fine old original set of gold plated Landsdorfer tuners identical to those originally used by the Maestro. There appears to be no cracks or repairs and the guitar is in fine condition, appearing near new in fact.
A superb example of a very exceptional Velazquez. Someone will be very lucky to own this one.