Classic Guitars International is an approved dealer for Clima Cab, Clima Stand and Clima Case!
Over the past 25 years of offering the finest classical, flamenco, steel string guitars to clients all over the world, perhaps the number one issue I see on the instruments that come through the shop are caused by inadequate humidity control.
It's heartbreaking to see a guitar with cracks on the top, or the back and sides, or a bowed neck, or frets popping out of the edges of a fingerboard, particularly when it could likely have been easily prevented.
Also, for we guitar lovers, there is no sculpture or art piece more beautiful to us than the guitars we love. Yet they spend most of their life packed away in a case where we cannot enjoy their simple beauty.
In order to solve both these problems I am happy to announce that Classic Guitars International is now an approved dealer for Acoustic Remedy Clima Cabs, Clima Stands and Clima Cases! These finely built cabinets not only protect your guitar by maintaining proper humidity, but also allow your guitar(s) to be beautifully displayed and bathed in soft cool light, so that you can enjoy viewing them any time.
These cabinets are so popular that often there is a wait to get one, so I try to keep units in stock that can be acquired with no wait, and also my clients who order larger custom cabinets get a little 'nudge' to hopefully produce their cabinet sooner than otherwise.
I use these exclusively in my shop for my own personal guitars, and know from experience that you can trust your gem in these cabinets.
Read below for more detail and prices, and call me at 805.390.1571 or email me at classicguitar4@gmail.com to talk about availability, pricing, custom orders, and items in stock available for immediate delivery.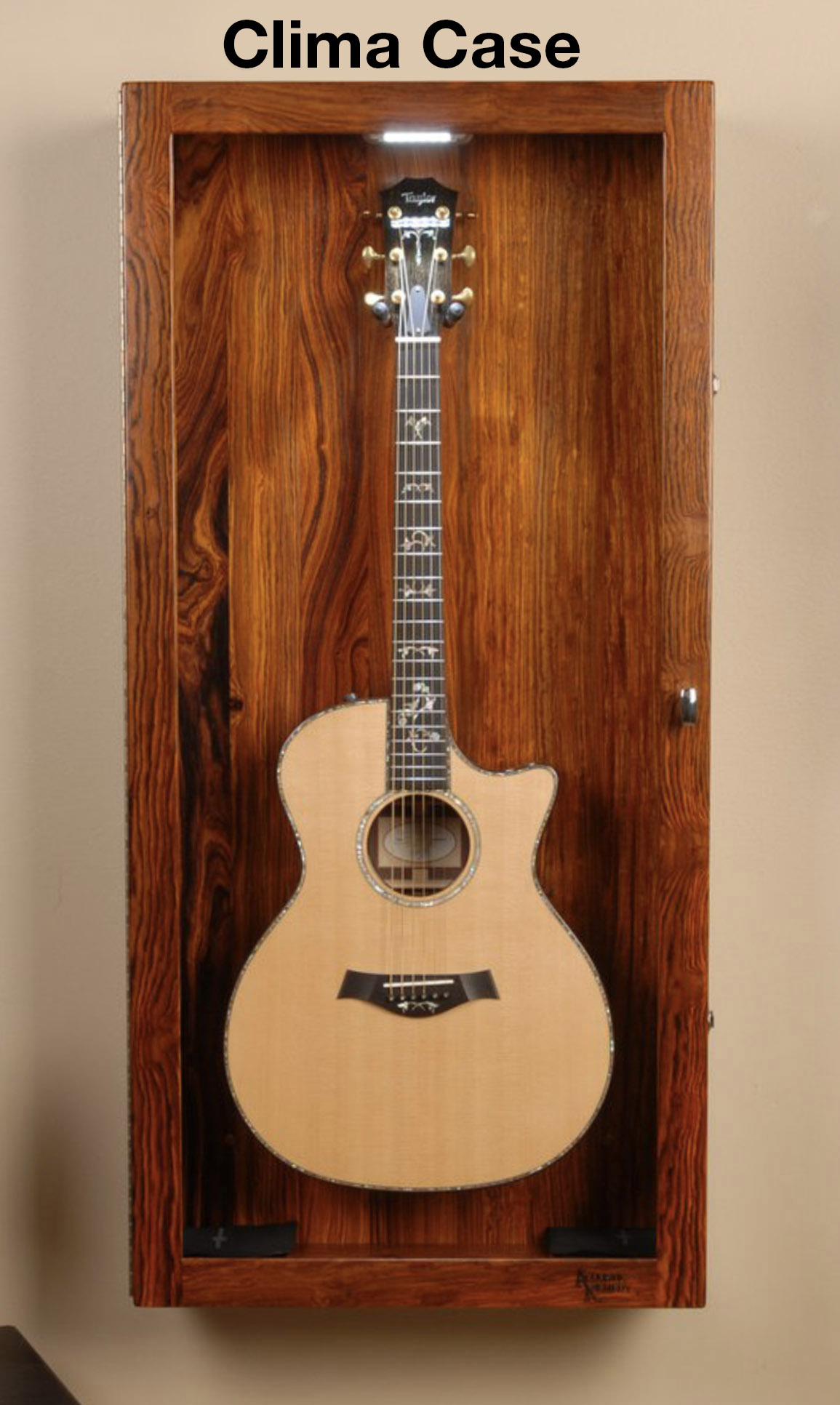 Amish Quality!
Fine woodworking is more about an individual piece or style, it's about reshaping the raw, organic, and natural beauty of Mother Earth to give it a new life in your home with purpose and elegance that's more than the sum of its parts.
In a world consumed by mass-production there is something so gratifying in the slow and meticulous process of creating a unique piece from start to finish. All items are made to order and yours will be fashioned with an attention to detail in intimate hands-on approach that makes each item truly one-of-a-kind.
Some of the joinery found in Acoustic Remedy products is not seen very often in the fine woodworking industry. Some examples are miter, lap, pocket, mortise and tenon, dovetail, biscuit, and rabbet joints.
Patented climate control technology
Acoustic Remedy's ClimaControl Technology™ is patented technology combined with a wide range of methods to properly humidify. Most owners of fine instruments want to pick them up and have them sound as good or better than the day they bought them. A very important part of that process is proper humidification.
Acoustic Remedy ClimaControl Technology™ consists of two main components that work in tandem to give you a hermetically sealed environment. This is consistent across all of their humidor products, including ClimaCase, ClimaStand, and ClimaCab.
All Acoustic Remedy Guitar Humidors incorporate this hands free, automatic, patented climate control technology.
Three options, one for every need:
All models include the patented, automatic 'CimaControl' humidity control technology and  a wide array of sustainably harvested hardwoods are available, that originate both domestically and across the world, providing a multitude of different color schemes, textures, and patterns that are sure to complement a variety of interiors.
ClimaStand
Individual instruments, adjustable cradle, can be wall or floor mounted. From $1,000, available in multiple woods/finishes.
ClimaCase
Individual instruments, wall mounted, can be set on floor base as well. From $1000 Available in multiple woods, finishes.
ClimaCab
2-15 instruments custom made from $4,000 These cases can be custom designed to order and can accommodate 2-15+ instruments. There are a variety of hanging/display options and several lovely woods,finishes, and cabinet styles.